Testimonials
"I can't say enough about Diamond Kennels, it is the best. I have told so many people about the facility and how well it is run and how friendly and helpful the people are. It is also so very very clean."

Charlene Sinclair, owner of Karli Ann and Eboni Rose

"We had both of our dogs boarded for one day to see how they would like it...they LOVED it. We are going back this weekend and feel great that they will be well cared for and loved."

Dee Lenner, owner of Rusty and Logan

"We've been coming to Diamond Kennels for 14 years and never have been disappointed. They care for your pet like it's their own. They take special effort to know your pet's needs and personality. I have received emails during the stay to let me know how she is doing or if there is a concern. On the last visit they even made a trip to the vet's office to pick up a prescription! On the phone or in person, they have always been friendly, polit and professional. I appreciate that they remember us and our pet. I have been recommending Diamond Kennels for years and will continue. We will be back! Wouldn't go anywhere else."

Steve Smith, owner of Lacey

"This was the first time we boarded River, so we were a bit anxious. Our phone call after day #1 was greeted by a very detailed and positive report which gave us a great sense of relief. When we picked her up a week later, we were greeted by a dog who was actually better behaved and much better groomed than when we dropped her off. Diamond Kennels is a positive game changer for you and your pet!"

Bill Whistler, owner of River

"We have always gotten the best care for our dogs at Diamond Kennels. You can tell they really care about the pets they are taking care of. We love the way they use social media to show how much fun the pets are having. I really enjoyed the Pet Report Card. We would highly recommend them to everyone. Diamond Kennels is the only place we will kennel our dogs."

Angie and Jerry Gunckle, owner of Tink and Bella

"We have loved Diamond Kennels from the moment we arrived for our tour! It is clean, safe and comfortable. The staff is always so welcoming and helpful, from making reservations, to helping us out to the car at pick-up. They treat our crew like family! Our pups are always happy when we drop them off, and act as if they are at home during their stay (I see them in the yard when we leave, and peek in on them in their kennel when we pick them up!). We're sure to get accurate info on how the pups are doing whenever we call to check on them. I've looked at kennels that are closer to our home, but can't find anything that comes close to Diamond Kennels. They're simply THE BEST!"

Katie Lowery, owner of Asti, Guinness and Tipsy

"Mellie seemed very happy to stay at Diamond Kennels. She remembers the place as soon as we pull in the driveway and can't wait to get into her area with the other dogs. I especially liked the personal touch that the staff knows your dog and we were introduced to the staff member who had the most contact with my dog. The convenience of text messaging is awesome. I also like the way the staff is very concerned that they do everything from feeding to giving treats just like we would at home. The staff clearly loves animals and wants them to be well cared for in the owners absence. I would definitely recommend Diamond Kennels to anyone looking for a safe place to keep their animals. I would use Diamond Kennels again in the future."

Angie Stilianos, owner of Mellie

"Leaving your fur baby behind while you go away for the weekend is always very stressful. Recently we had to leave our dog Jake with Diamond Kennels for a weekend while we traveled out of town. We received the phone call that no one ever wants to receive that Jake wasn't doing well and as you can imagine, we started to worry and panic. And that's where it ended. Diamond Kennels took care of Jake right away. They saw that he wasn't being himself, noticed some signs of concern and got him the care that he needed right away. You went over and above with making sure he was comfortable and keeping us updated so we weren't losing our minds trying to get back with him. There aren't enough words to describe how thankful we are to Diamond Kennels for putting us at ease and most importantly taking care of our little one. This is not just a business; you all truly love the animals you care for and it's obvious with how you treat them. There is no better place to house your pets if you need to. Diamond Kennels has our absolute trust with Jake and any other animals we may have. We would recommend Diamond Kennels 100 times over. Thank you so much for everything!"

nancy, owner of jake

"Love the personalized service. It feels as though the staff at Diamond Kennels care about your pets and get to know them. I like the "report cards" at the end. Also, every time we bring our dog, he pulls hard to get in the door with his tail wagging the entire time, so I do not worry about him when he is being boarded. It is a bit of a drive for us, but we do not board him anywhere else."

Lori, owner of Dexter

"I love everything about Diamond Kennels. They were clean and friendly and I loved that we could check in on our babies at any time with the webcam! This was our first time boarding them and they seemed so relaxed which made us happy! We toured the facility first and were blown away. Definitely a top notch facility that has everything you can think of for your babies! The only thing I may change for the next time is adding the option for group play. We will 100% be using this facility in the future."

Cori Stone, owner of Maggee and Mea

"Your staff is so friendly, caring and helpful. It is very evident that they care about your pet and are committed to taking excellent care of them. When we called for updates, the responses were prompt and detailed relative to how Luigi was doing. Your staff even texted us to follow up and sent pictures of him. The facility is the cleanest that we have ever seen and is a true testament to your pledge to take very good care of the pets entrusted to your care. Doing business with Diamond Kennels is very easy based upon the responses stated above. We would definitely recommend Diamond Kennels to anyone that wants their pet to be very well taken care of. Luigi is a shy dog, but became acclimated very well due to the attentiveness of your staff. He is even doing better with strangers since we brought him home. We would absolutely use Diamond Kennels again to care for Luigi. You all did an extraordinary job! Thank you all so very much."

Rick and Kathy Garver, owner of Luigi

"Love, love love this place. They take such great care of my fur babies. They make sure they are very well taken care of and they love them as much as you do. I highly recommend taking your fur babies for a little spoiling. It's also super clean and the owners are so friendly & helpful. They send informative text throughout your vacation. Plus it's the only place I have found that have the suites with the web cams where you can check in on your puppies."

Lisa Allison, owner of Bella and Charlie

"Diamond Kennels is the perfect place for our dogs. They go above and beyond to make our dogs safe, happy and comfortable during their stay. Highly recommended."

Vicki and Mark Spung, owners of Sammy, Deano and Mick

"I am extremely impressed with Diamond Kennels. I have placed our dog Rico at two other kennels in the past and was satisfied with the level of care provided by both. Diamond Kennels completely outshines the other places. First, the facility looks like a nice hotel for people inside and out. Second, I was immediately impressed with the personal attention my dog and I received from the front desk staff at drop off. Third, my dog received a report card regarding his stay, which suggests the staff spent time with Rico and observed his behavior during his time at the Kennel (Rico got an A and a smiley face sticker). One of the fears I had about kenneling my dog is that he would be locked in a cage and forgotten until we picked him up days later. The staff at Diamond Kennels did not ignore my dog. At pick up, I was reunited with a newly washed and clipped Rico that was happy, looked great and clearly had a good time. I will only be boarding Rico with Diamond Kennels from now on. I highly recommend this place to anyone who loves their dog and wants the best for him or her."

Chris Hampton, owner of Rico

"Diamond Kennels creates a unique environment where you feel as though you are leaving your pets with family. We are very particular about where we would allow our dogs to stay in those rare occasions they are not traveling with us. Diamond Kennels is committed to making sure your pet has an enjoyable and comfortable stay. They asked numerous questions and got to know our pets. In addition, they sent text updates periodically throughout their stay. I find comfort in their "Senior Suite" where our 12 1/2 year old German Shepherd can peacefully stay without the anxiety of the noises from the normal stay area. I would highly recommend Diamond Kennels"

desteni and ben mason, owner of Laney and oceana

"My Grandpuppy Malle is so special to me and I really stress out to leave him when travel is required. I wouldn't leave him to the care of anyone other than Diamond Kennels. Their kind and caring staff is equal to the superior facilities. Having spacious suites where Malle can run around, play and sleep on a real bed makes me not worry, plus he probably gets more play time and outdoor exercise than he does with me! The suites also have 24-hour monitors so I can peak in on him at any time for that added peace of mind. Malle also gets groomed during his stay at Diamond. I would highly recommend Diamond Kennels to anyone whose dog is a member of the family."

Susan, Grandmother of Malle

"We have been coming to Diamond Kennels for years! Diamond Kennels offers a variety of boarding options. Depending on your dog's length of stay, we may choose different areas of boarding so that she is most comfortable and happy. Bella always has "social" time and runs happily with other dogs with similar energy level. Diamond Kennels is staffed with wonderful people who really show great kindness to all the dogs I've seen them with. It is a beautiful and clean facility. Bella is always happy to go there and happy to see us when we pick her up, never having trouble returning. She is always excited about going inside when we arrive! And they always make sure she has the right amount of food we bring for her meals and snacks. We highly recommend Diamond Kennels!!"

Susie Sweigart, owner of Bella

"I would highly recommend Diamond Kennels. This was our first time having to kennel our Dane, I felt at ease as soon as I walked in. Every staff member greeted myself and Rainy, I knew she was in good hands! The text messages and photos while we were gone were a great surprise as well!"

Angie Burton, owner of Rainy

"You and your staff go above & beyond to make sure our fur babies are cared for & comfortable! Also keeping us pet parents informed is of great comfort to us as well! Awesome service!!!"

Beth and David Fordyce, owners of Katie, Anita and Buddy

"First off, we were very nervous moving into a new area and taking our dogs to a new boarder. They are our children so are naturally very important to us. We started out by getting a referral from our vet. Diamond Kennels came highly recommended. We started out with a facility tour and were blown away by everything in the building. The cleanliness, organization, arrangement, features and grounds of the facility were outstanding. The drop off and stay went great and so did the checkout. We were beyond happy with the staff and the care and attention our pets received. Prices are a little high compared to other boarders but we know that cleanliness, great staff and a great facility don't come cheap. We will be long time customers of Diamond Kennels!"

Mindy B., owner of Maggie and Miesha

"We could not be more satisfied with Diamond Kennels. During Carly's recent boarding, she developed a hot spot on her face which required medication and a visit to our vet. Diamond stepped in and took care of all of Carly's needs all the while keeping us informed of her condition and texting pictures to us while we were on vacation. Diamond went above and beyond as far as we're concerned. We knew Carly was in great hands. We highly recommend Diamond Kennels to anyone looking for the perfect place to board their pet. It is home away from home for Carly and we would not consider leaving her with anyone else."

Rick and Cindy Scoville, owner of Carly

"When Einstein is groomed or boarded with you, we always rest assured that he is in good hands, safe and well cared for. The joy the staff takes in his visits with you are apparent and I am certain he reciprocates that love! He is so precious to our family. Thank you for treating him like family too!"

Missy, owner of Einstein

"Diamond Kennels is a unique and one of a kind kennel that truly provides a safe and comfortable place for your furry kids! It's a family owned business who's staff is compassionate about providing the best care for your animals when you're away. They offer a variety of lodging options with many amenities to choose from. Our two Labrador Retrievers enjoy staying in a large apartment with a cot and flat screen televisions. I always sign them up for doggie social time so they can play in a group with other dogs their size. They also get a special chicken snack everyday. My dogs love staying at Diamond Kennels and I trust that they are receiving the attention and care they need from the moment we drop them off to the moment I pick them up!"

Faith Tuss, owner of Pali and Szali

"From the moment we walk into the doors at Diamond Kennels, we feel like we are special and that everyone there truly cares about our dogs. We are always greeted with warm smiles and happy faces. The people there talk to our dogs like we talk to them with loving words and warm pats. We always feel very comfortable leaving our dogs in their hands while we are gone. The lobby area is always clean and pleasant and greeting. We would highly recommend Diamond Kennels to anyone looking for kennel stay and care in the area."

Mark and Nan Silvers, owners of Thor and Trooper

"I've never had to kennel my dogs before. They have always stayed with family when needed, but I'm new to the area and had to go in for surgery and I needed to know my boys were being well taken care of! I contacted many kennels in the area, toured them and met the staff; Diamond Kennels was BY FAR the best option! The facilities are fantastic. The kennels are clean, safe and you can customize to fit the need of any animal and your price point. The staff are friendly animal lovers (you can tell!) and they greeted my pups the same way I do when I see their smiling faces and wagging tails! They even send home "report cards" stating how each dog did and nice comments that let you know they really do pay attention to each and every animal that walks through the doors! I will definitely be using them again and can leave my boys without any worry!"

Katie Christensen, owner of Cody & Henry

"I am going to share a true story. This past Thanksgiving, our 14 1/2 year old Labradoodle was a guest at Diamond. We were on a road trip to NYC to spend the holiday with family when Jill called to inform us that Derby had lost control of his back legs. Talk about STRESS! We were 650 miles away. It also happened to be the busiest single day at Diamond and the first that Jill and Jeremy were serving as new owners. Jill and Jeremy made the time to drive to Eaton to take Derby to his vet, waited with him and brought him back to Diamond but not before stopping at Tractor Supply to purchase special non slip flooring to keep Derby more comfortable. Jill texted us regularly with updates and her care didn't stop when we picked up Derby. Jill even called us the day after we returned just to check up on Derby. Not only is Diamond Kennels a safe, clean, upscale and professionally run facility but it is staffed with caring and kind people. Boarding a pet can be a stressful situation but rest assured, Jill, Jeremy and staff are THE best caregivers and animal lovers! TOTALLY recommend!"

Maria Renner-Viereckl, owner of Derby

"Gibbs always enjoys his stay at Diamond Kennels so much it takes him a day or two to recuperate from all the fun and interaction with the staff and other "guests". As a dog mom, I appreciated the help Jeremy gave me getting my rambunctious boy into the car when I picked him up. I highly recommend Diamond Kennels."

Kaye Brown, owner of Gibbs

"This was our first time with Jill and Jeremy. They were prompt at answering our questions and they were helpful in making reservations. Jill took a personal interest in our four legged daughter and cared for her as if she were her own. We worry a lot about our five pound girl, but I would recommend them at Diamond Kennels to everyone and intend on taking our little Molly back whenever we need them."

Sandy and Bob Lachman, owner of Molly

"What a joy and delight! We are so grateful to my hair stylist for recommending Diamond Kennels. We had total confidence leaving our dear black lab, Annie. And picking her up, we found a happy, well cared for pup! She had meds that were definitely carefully administered. She was better, spunkier and looks forward to coming back!"

David and Marsha Caudell, owner of Annie

"I don't worry about the dogs when they are at Diamond Kennels. One of our dogs is a picky eater. I learned that they feed him by hand. We drive over an hour and will continue to do so. They genuinely care. The fact that they are open 7 days a week is fantastic so our dogs don't need to be there any longer than necessary. Diamond Kennels staff cares."

Katherine Kingseed, owner of Charlie, Ralph and Watson

"I recommend Diamond Kennels to everyone I know. Very thankful for the exceptional service for Boomer. I never have to worry about his care and he enjoys his stay beyond words."

Amie Davis, owner of Boomer
You can blame us if your pet wants to stay!
Comfort & Luxury

Whether your pet stays in one of our extra-comfy luxury suites, our spacious semi-private condos, or any of our other offerings, all our lodging areas are sparkling clean and climate-controlled. Lots of skylights and windows, beautiful décor, and soothing music played 24/7 throughout the building all create a calm environment that helps to reduce the stress of being away from home.

Indoor/Outdoor Exercise & Play

Rain or shine, all our canine guests enjoy plenty of break time each day to stretch their legs, get some fresh air, and do their business. Huge outdoor play yards are available for our social guests. And for our guests who prefer to take break time by themselves, there are lots of individual outdoor runs! But if the weather is bad, enclosed individual runs and an indoor social arena can accommodate everyone!

32 Acre Country Setting

Our Resort is located on 32 acres of beautiful land surrounded by trees, and features over 20,000 square feet of indoor lodging and exercise areas. The Resort also has over 70 individual outdoor exercise runs, as well as seven play yards so all our guests can enjoy the fresh air and sunshine during their break times. We are truly a "country club" for your pets!
Top Five Questions about Diamond Kennels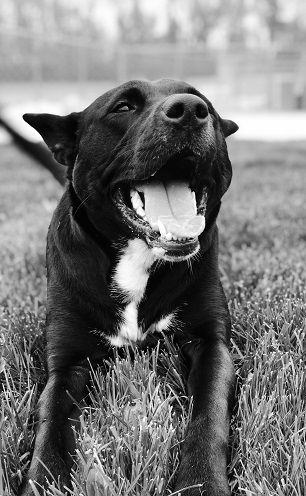 Pet of the Moment
Bella    |    Mixed Breed
Meet Bella, our Pet of the Moment!
After being found on a blanket near a tree in Chicago in below freezing temperatures, Bella found her new home with Susie and her husband Bernie. Her daughter, Blair, originally found Bella wandering in a park near her Chicago apartment and couldn't take her to a shelter due to a rampant Canine Influenza outbreak in the area. Shelters were just not accepting dogs at all. Blair contacted her mom, Susie, and asked if she could bring her to Dayton and try to surrender her to a local shelter, to which she replied "Sure!". The rest is history. Once Susie saw Bella, there was no way she was giving her up.

"Bella has been such a great dog! She has a wild personality, full of fun, less mischievous than when she first arrived. She loves Kongs filled with kibble and sealed with peanut butter or cream cheese! She loves to play with fabric-type frisbees and with balls, but good luck getting her to return them!! The chase is on!! She does not like being in or near water, except to drink it! Anyone want a kiddie pool??"

"Bella still jumps up on people for attention and excitement, but she has settled down a lot in the past two years. Mostly, she has just a beautiful and loving spirit, loving all dogs, and loving her people!"